---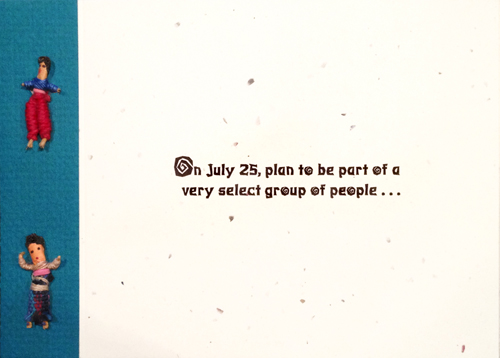 This little invitation packed a big punch! It drew such a large response an additional party tent had to be set up in the parking lot because the store couldn't hold everyone.
The rich history and art of Santa Fe draws people there, and this invitation was designed to appeal to that audience. The six-page invitation was hand-bound using miniature Worry Dolls, a Pier 1 product imported from Guatemala, so the invitation successfully tied the store into the look and feel of Santa Fe.
An interesting little story about the Worry Dolls -
A child who cannot sleep can tell their worries to the doll and place it under their pillow at bedtime. According to folklore, the doll is thought to worry in the child's place, allowing them to wake up without their worries, which have been taken away by the dolls … Read More »
---
This an email newsletter blast created for Watters Creek at Montgomery Farm. A shopping, dining and residential center in Allen, Texas. It is similar to Southlake Town Center and Frisco Square. The email blast is designed as a template that is easily customizable for placement of new articles, announcements and photos each month. Each article is clickable and links back to the website to provide the customer with more information.
---