That was a great ad. Or was it?
---
---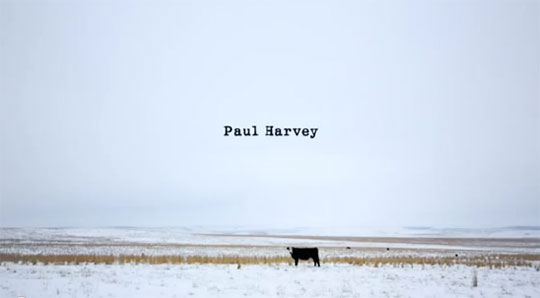 A zillion people watched the Superbowl. How many ran out and bought Ram pickups because they ran a really good ad?
I heard from two camps – some friends who are agriculturally enlightened and some who believe that hamburgers come from somewhere they don't think about and then magically appear at McDonalds.  The urbanites gave the Dodge ad a small WTF? and moved on. Not exactly the target audience for a half-ton pickup. They don't need a truck to haul the Bichon Frise to the groomer.
But I come from a  rural part of the world and Dad still owns a small wheat farm. Those friends and compadres from the barnyard world were ecstatic that Dodge would run a spot praising the hard work of farmers. Even the ranchers were impressed. There were large amounts of warm-fuzzies throughout the Heartland. And why not? Here were amazing photos of hard working families, salt of the earth folks, being lauded by the resonant tones of Paul, By God, Harvey. I remember many a day enjoying a Saturday hamburger at Stanley's Drive-Inn, in Dad's red Chevy pickup, listening to Mr. Harvey bring the lunchtime news. And then because Mr. Harvey was on the "farm station," we then got the commodities report on pork bellies and winter wheat prices. Feeder heifers by the hundred weight. That spot was one of the most nostalgic 90, or was it 120 seconds(!?!), of advertising I've ever witnessed. Farm friends told me they got goosebumps. Only one problem with the commercial —
Nobody said they'd buy a pickup.
More than a few didn't even know who was running the spot. The urbanites didn't get it at all.  And then when word got out that the Richards Group had bought the idea from a different advertiser – farms.com. A web site? Really? At the end of the day, advertising is supposed to tell you about the product, or entice you to buy it. Will people go look at a Ram pickup because of this ad? Time will tell. I owned a Dodge Ram once and liked the truck. But Ford has a a twin-turbo V6 and Chevy and GMC have new trucks coming out with high-tech interactive displays and new engines. Frankly, I've seen farmers. Talk to me about that twin turbo
Good day.
---
---